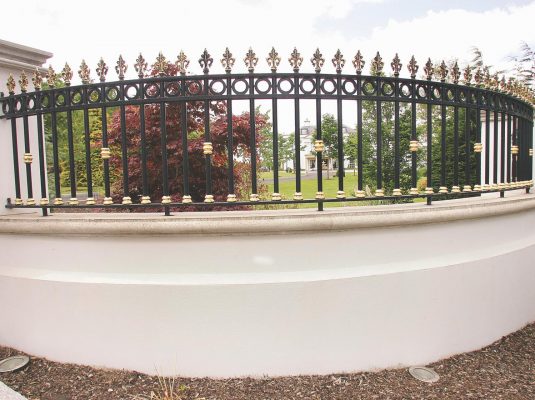 This classic gates and railing project really showcases the high level of craftsmanship and quality that can be expected from us. The classic design of the entrance gates, railings and pedestrian gates are in keeping with the classic style of the property and features gold-leaf finishing enhancing some of the design features.
Again, as is now a very popular feature today, these classic drive way gates are fully automated. These gates and railings are manufactured from mild steel with custom scroll tailored to the customers exact design requirements. These gates are fully galvanised and painted with special modified vinyl paint.
We can also quote for insurance repairs. For classic gates and railings quotation, please provide your name, address, e-mail and telephone details to:
barry.mccann@bmc-gates.co.uk,
Telephone +44(0)28 7938 6060
Fax +44 (0)28 7938 6084
BMC Gates, 17 Deerpark Road, Bellaghy, BT45 8LB, Northern Ireland, UK.
Areas We Cover for Classical Gates and Railings
County Antrim:- Antrim, Ballycastle, Ballyclare, Ballymena, Ballymoney, Belfast City, Bushmills, Cairncastle Carnlough, Carrickfergus, Crumlin, Cullybackey, Cushendall Cushendun Glengormley, Larne, Lisburn, Monkstown, Newtownabbey , Portglenone, Portrush, Randalstown, Toomebridge, Whitehead. We also provide services to Ireland and the UK.
Share This Post
Related Post