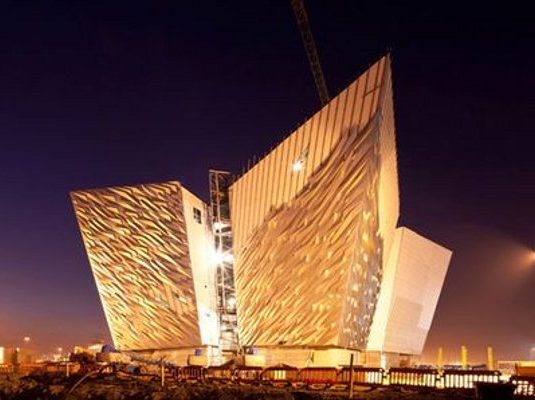 Posted by bmcadmin
Comments are off for this post.
It was a great Honour for BMC Engineering to be asked to take part in the design and manufacturing of the metal infill panels for the staircase at the new Titanic building Belfast.   The phrase Grand Staircase of the RMS Titanic has been used to refer to the first-class entrance aboard the Titanic which contained a large ornate staircase in the famous White Star Line liner.
The staircase is often used by submersibles as an entry point into the sunken wreck as it is now a large opening, which provides easy access to the ship's interior.
The staircase is a close replica of the original one on the ship Titanic. Although we had drawings and original photographs to work from during the manufacturing process we were forced at times to make subtle changes to accommodate current day building control regulations.
There where eleven panels in total, each a different shape and size. Though for the most part we used modern day methods but for nostalgic sake we tried to use some traditional methods using our gas forge and a vintage power hammer. The overall process took just over 5 weeks.
During this time I often thought about the men from H & W who would have made these panels originally and the traditional methods they would have used and how long it would have taken them. The ironwork for the most famous staircase in maritime history was solely hand crafted by BMC Engineering.
The Grand Staircase descended five levels down from the Boat Deck to the D Deck and continues down to F-Deck as an ordinary stairway.
The staircase featured large glass domes which allowed natural light to enter the space during the daytime, oak paneling and detailed carvings, paintings, bronze cherubs (which served as lamp supports on the middle railings), candelabra, and other details.
The Forged staircase featured a clock surrounded by an intricate oak carving depicting "Honour and Glory crowning Time", while the aft staircase featured a far less ornate clock.
We can also quote for insurance repairs. For a custom ironwork quotation like please provide your name, address, e-mail and telephone details to:
barry.mccann@bmc-gates.co.uk,
Telephone +44(0)28 7938 6060
Fax +44 (0)28 7938 6084
BMC Gates, 17 Deerpark Road, Bellaghy, BT45 8LB, Northern Ireland, UK.
Areas We Cover for Custom Ironwork
County Antrim:- Antrim, Ballycastle, Ballyclare, Ballymena, Ballymoney, Belfast City, Bushmills, Cairncastle Carnlough, Carrickfergus, Crumlin, Cullybackey, Cushendall Cushendun Glengormley, Larne, Lisburn, Monkstown, Newtownabbey , Portglenone, Portrush, Randalstown, Toomebridge, Whitehead. We also provide services to Ireland and the UK.
Share This Post
Related Post