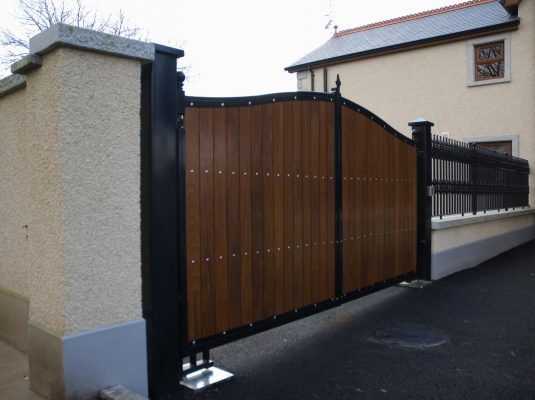 These complete wrought iron package entrance gates are different from most as the gates rise to the centre by use of an ornate panel and not a sloped top rail as most gates are designed. This entrance is fully automated with a pillar mounted intercom.
This site had a boundary with a field and the customer did not want the usual options of wooden fence or livestock wire. We came up with a style of wrought iron live stock fencing that also complimented the property. (Other types of ground mounted railings can be seen on the Railings page
Wooden Infill Back Yard Gates and Wall Mounted Railings – We can also provide gates with a wrought iron framework and wooden in fill. The benefits of this combination, for those who like wood, are that the wrought iron frame provides durability and structural strength while the wood provides privacy. The wall mounted railings were also fitted as part of this project.
Bespoke Weathervane – In keeping with the customers love for their Boxer dog, we custom made a 'Boxer' weather vane. Virtually any subject/theme can be transformed to a weather vane by the use of our specialised cutting equipment.
Balconies –  This particular project had both straight and radius balconies. Balconies can be made to follow just about any contour.
Pedestrian Gate – To complete the enclosure of this property a pedestrian gate was fitted to the rear of the house matching the design of the balconies and railings.
We can also quote for insurance repairs. For a complete wrought iron package quotation like please provide your name, address, e-mail and telephone details to:
barry.mccann@bmc-gates.co.uk,
Telephone +44(0)28 7938 6060
Fax +44 (0)28 7938 6084
BMC Gates, 17 Deerpark Road, Bellaghy, BT45 8LB, Northern Ireland, UK.
Areas We Cover for Wrought Iron Package
County Antrim:- Antrim, Ballycastle, Ballyclare, Ballymena, Ballymoney, Belfast City, Bushmills, Cairncastle Carnlough, Carrickfergus, Crumlin, Cullybackey, Cushendall Cushendun Glengormley, Larne, Lisburn, Monkstown, Newtownabbey , Portglenone, Portrush, Randalstown, Toomebridge, Whitehead. We also provide services to Ireland and the UK.
Share This Post
Related Post